Lansing-area singer-songwriter is turning heads, making her Local Spins' first 'Artist to Watch' for 2022.
Recently returning from L.A. recording sessions with Elton John bassist Matt Bissonette, the 16-year-old Lansing-area singer-songwriter is turning heads, making her Local Spins' first 'Artist to Watch' for 2022.
Now 16, the Lansing-area singer-songwriter just returned from Los Angeles where she recorded four new indie-pop tracks with producer Matt Bissonette, bassist for Elton John. She plans to release the songs with help from Jay Gilbert, founder of L.A.'s Label Logic, an artist agency focused on digital strategy and marketing. 
The whirlwind early January experience at Dragonfly Creek Recording Studio in Malibu – with drummer Greg Bissonette (Pictured above-Ringo Starr, David Lee Roth), keyboardist Jim Cox (Mark Knopfler, Elton John, Aerosmith) and session guitarist Andrew Synowiec (The Who, Josh Groban) – puts Kanin Elizabeth on track for a milestone 2022 and a more-than-promising career.
 "A lot of seasoned musicians have taken me under their wings, but I am ready to fly. I take it all in, but I'm ready." 
Bissonette would agree: "The things that make Kanin stand out are her overall maturity and natural talent. She not only sang every take perfectly, but she added several parts that I threw at her as if she's been doing this for 30 years and she's just 16. 
"She never seemed nervous or anxious singing in front of total strangers. She was confident and strong. That can only be attributed to great parenting, which she has been blessed with. She has the mental fortitude to survive in this nutty business called music."
Bissonette called her compositions "great relevant songs that I think people will tap into" with Kanin Elizabeth setting herself up to "be in the right position to succeed." 
Gilbert added that the young singer has "a bright future," describing the recently recorded songs as "fantastic." 
"What makes Kanin stand out is her wholesome look and sound – so rare these days, very refreshing," he said. "She continues to mature as a singer and musician." 
With 80 original songs already in her repertoire, Kanin Elizabeth tries to work on her new music daily. 
"I would really like to be a touring artist and open for an established band as I grow my fan base," she said. "For the next two years, I would really like to take advantage of living with my parents and continue to create and share as much music as I can." 
Kanin Elizabeth also hopes to find a Michigan-based recording studio and producer to work with long-term, a team "that gets my style and is really interested in watching me grow.
ABOUT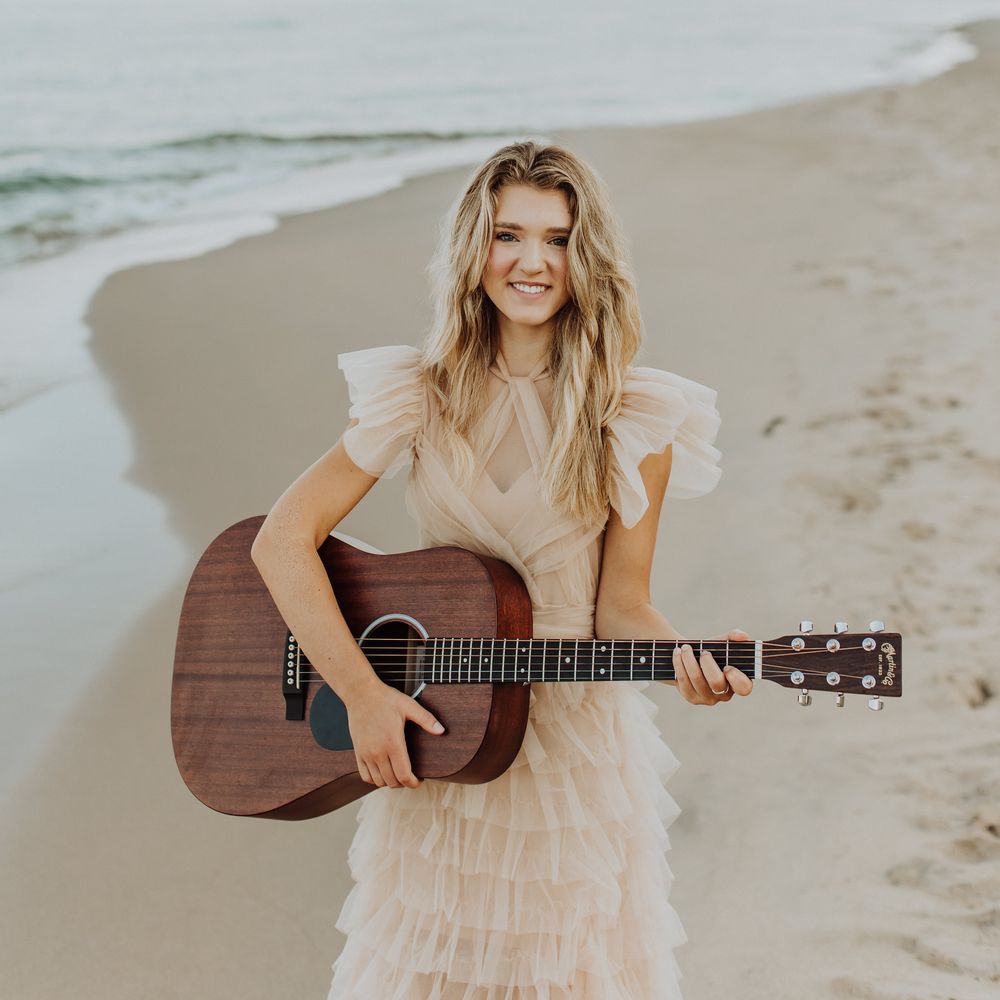 KANIN ELIZABETH
SINGER~SONGWRITER
I started singing before I could talk, humming actually. My passion for singing has been a secret. This is where my story begins. I hope you will follow along. This is going to be a journey.
As each day passes, the need for me to write becomes stronger and stronger. It's as if with my new found focus on telling my own story and how I see things and my determination has taken a life of its own. As the songs continue to pour out from me and we have time to record, I will post them as they come and are ready for the world to hear."  When Kanin Elizabeth was just an infant, her parents noticed one strange thing. Although she was too young to talk, when she rode in the car, she would start to hum. Perhaps it was an inkling of what she was to become.
Now 16 years later, music infuses the heart of this Michigan-based songbird, who has begun writing and performing her own tunes as she puts wings on a professional career as a singer-performer.
Born near East Lansing, Kanin plays the piano and the guitar. Her style is grounded in standards but she's just as comfortable performing a tune by Johnny Cash, The Lumineers or The Head & The Heart. Her teachers laud her perfect pitch and her seeming innate ability to listen to a song and sing it, spot on.
But Kanin hopes to be more than just in tune musically. In fact, she's tuned into giving back with service to her community as she scales her own musical career. Often she can be found in a hospital or nursing home, singing to soothe and heal patients who might otherwise not get to hear her sweet voice, providing comfort.
"I want them to know that someone cares. And with my singing, I believe I can show them," she says. "Music is a gift to the world, and I want to share mine."
In spite of her early success, Kanin is modest about her talents. Even as she was nurturing her voice and practicing her instruments, her classmates didn't know she could sing until she stepped up to a mic at her 5th grade talent show. That's when the small and long-limbed blonde, who loves home, family and her longtime friends, showed off some head-turning vocal chops far beyond her years.
While most artist did not perform in 2020 due to the pandemic, Kanin found a way to offer music all over Michigan in outdoor settings.  The music did not stop. It was offered in a safe environment while bringing some normalcy to those that really needed it. Music has a way of lifting the spirits of all humans.I continue to put the pieces together, sometimes I fall but I am constently rebuilding to become a better recording artist that makes sense for me.
I may decide this is not my path but music will always be in my heart.